Jellyfish Mobile is changing the way creative teams all over the world produce video content. Designed by a team of Hollywood filmmakers, editors, and colorists, this little server has the power to change the way you think about shared storage and your entire post-production workflow.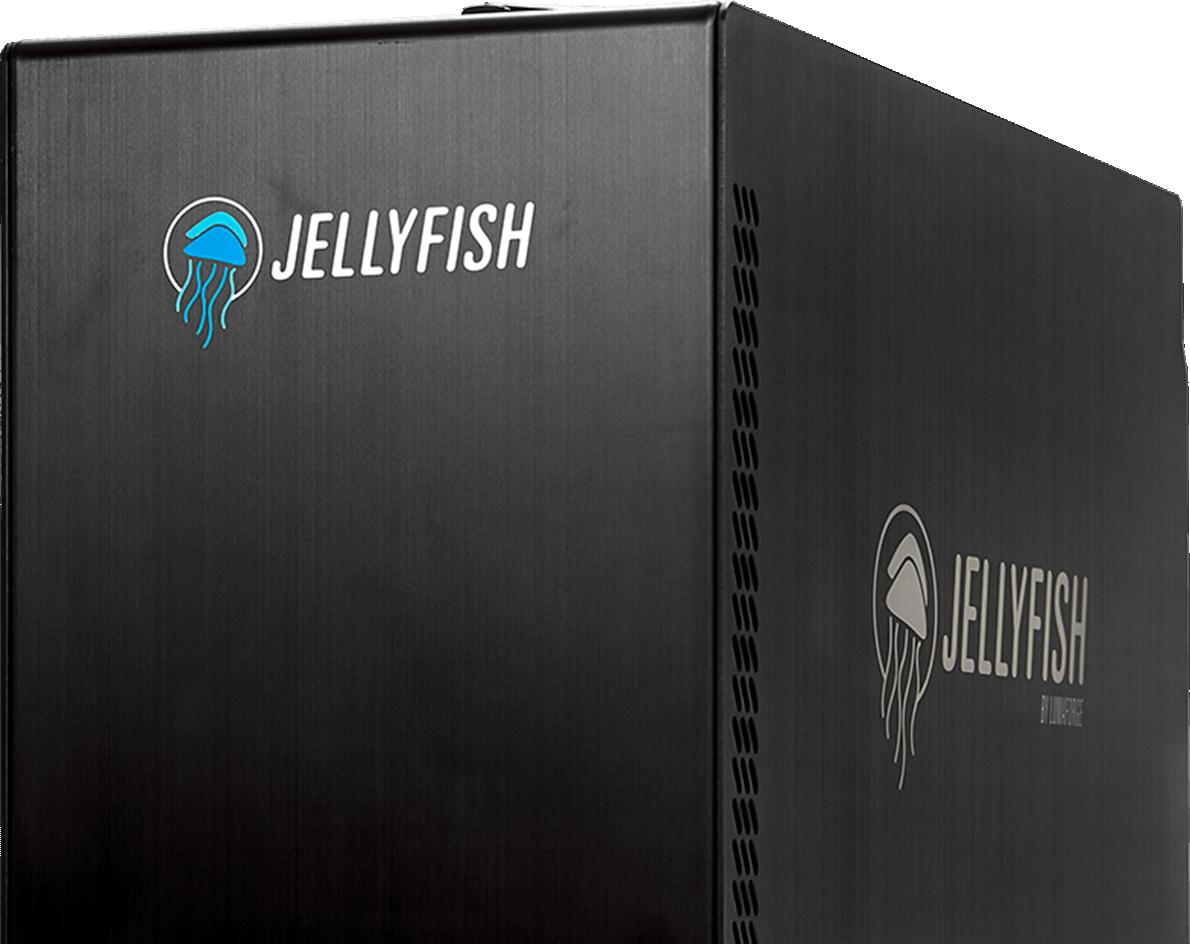 TECH SPECS
PERFORMANCE
Maximum READ: 2300 MB/s
Maximum WRITE: 1000 MB/s
10GbE Speed: Between 650 - 1000 MB/s*
1GbE Speed: 100 MB/s
*10GbE speeds vary based on receiving network interface card, Thunderbolt Adapter, Network Protocol, & client machine specs. Contact us for recommendations and best practices for your workflow.
CONNECTIVITY
Your Jellyfish Mobile is designed to be used without a switch. Users can connect directly into the onboard 1GbE or 10GbE ports.
CAPACITY
Jellyfish Mobile is available in 5 different sizes.
32TB = 32TB raw / 23TB Avail.
48TB = 48TB raw / 35TB Avail.
64TB = 64TB raw / 46TB Avail.
80TB = 80TB raw / 58TB Avail.
96TB = 96TB raw / 70TB Avail.
raw = Manufacturers stated disk capacity
Avail. = Capacity after parity (Virtual RAID5), overhead, performance buffer.
EXPANSION
Every Jellyfish Mobile can connect up to 2 Jellyfish Mobile Expansion chassis of any capacity.
DATA SECURITY
Jellyfish uses a software RAID similar to RAID 5. This means (1) out of (8) HDD can fail without any data loss.
COMPATIBILITY
Full interoperability between MacOS, Windows, & Linux
Optimized for FCPX, Premiere, AVID, Resolve, Motion, After Effects, Audition, Pro Tools, Logic
Supports: NFS, SMB, CIFS, iSCSI, FTP, SSH
Supports rsync backup
Supports Snapshots backup
Allows integration with Google Drive and AWS
Remote access to Jellyfish over FTP or SSH available
SERVER MANAGEMENT
Jellyfish is designed for "IT Free" operation and management. Easy to use web-based admin panel makes it easy to check the health of the system, swap out HDD, and make changes without ever entering the command line.
Users with IT personnel will be able to easily take advantage of additional Jellyfish functionality such as permissions management, remote access, and various backup options.
Jellyfish includes unlimited use of ShareClient "3 Click" mounting tool for macOS (cross platform mounting application coming soon).